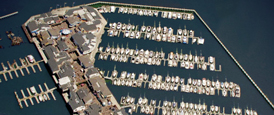 Docking at Northern California's Number One Attraction!
The PIER 39 Marina features approximately 300 double-fingered wooden dock boat slips.
The West Yacht Harbor hosts guest docking and accommodates boats up to 60 ft.
The Marina's East Yacht Harbor consists of long-term and transient tenant boat slips, accommodating boats up to 85 ft.
Founded in 1980, the San Francisco Jewish Film Festival (SFJFF), presented by the Jewish Film Institute, is the largest and longest-running festival of its kind and a leader in the curation and presentation of new film and media exploring the complexities of Jewish life around the world. Presenting more than 65 films and 135 screenings, performances and events over 18 days, SFJFF's highly anticipated program attracts over 40,000 filmgoers and industry professionals to venues in San Francisco, Palo Alto, San Rafael, Oakland and Albany .
SFJFF presents dramatic and documentary features, television and web series, experimental, and animated features and shorts about Jewish history, culture, and identity as well as films that reflect life through a Jewish lens. The programming staff takes a broad view of what makes a film Jewish and have been known to curate films that are Jew(ish) as well as films about issues that are relevant to Jewish communities and resonate with other cultural communities across the globe. Over the course of nearly four decades, SFJFF has discovered and nurtured international cinematic talents sometimes long in advance of their discovery by mainstream international festivals. Filmmakers exploring Jewish themes often start out their career by having a short film in the SFJFF; many of them return to the SFJFF with feature length documentaries and narratives.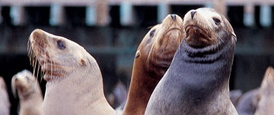 Why are they "Sea Lions" and not just "Seals"? Check out the Sea Lion Cam at K-Dock!
The first few sea lions hauled out on the West Yacht Harbor's K-Dock shortly after the 1989 earthquake.
By January of 1990 PIER 39 Marina had almost 800 animals frolicking around K-Dock in the water and on the boat slips.
Eventually, we relinquished K-Dock, relocated the boats and converted the boat slips to accommodate the Sea Lions in their chosen haul out site.
(415) 705-5436
FAX (415) 800-6688