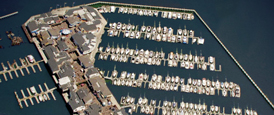 Docking at Northern California's Number One Attraction!
The PIER 39 Marina features approximately 300 double-fingered wooden dock boat slips.
The West Yacht Harbor, rebuilt with brand new docks and dredged to -9 ft at low tide in 2010, hosts guest docking and accommodates boats up to 60 ft.
The Marina's East Yacht Harbor consists of long-term and transient tenant boat slips, accommodating boats up to 85 ft.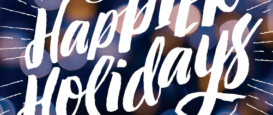 HapPIER Holidays at PIER 39
November 21, 2018 – January 1, 2019
PIER 39 is spreading holiday cheer on San Francisco's Waterfront! The PIER is unwrapping a new nightly tree lighting show on its 60-foot Christmas tree at the top of each hour from 5 – 10pm, November 21, 2018 through January 1, 2019. Synchronized to holiday music, the tree becomes a kaleidoscope of swirling color, adorned with thousands of specialty lights and ornaments. These dazzling tree lighting moments take center stage all season long. Get into the spirit of the season at PIER 39 while shopping, dining and strolling The PIER. Visitors will also enjoy local community performances, writing letters to Santa and fun social sharing activities. When you bring a gift for those less fortunate, you'll receive a special holiday treat. HapPIER Holidays from PIER 39!
Check back for more information.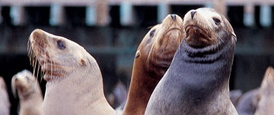 Don't Call Them "Seals"! Check out the Sea Lion Cam at K-Dock!
The first few sea lions hauled out on the West Yacht Harbor's K-Dock shortly after the 1989 earthquake.
By January of 1990 PIER 39 Marina had almost 800 animals frolicking around K-Dock in the water and on the boat slips.
Eventually, we relinquished K-Dock, relocated the boats and converted the boat slips to accommodate the Sea Lions in their chosen haul out site.
(415) 705-5436
FAX (415) 800-6688