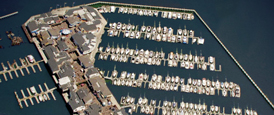 Docking at Northern California's Number One Attraction!
The PIER 39 Marina features approximately 300 double-fingered wooden dock boat slips.
The West Yacht Harbor hosts guest docking and accommodates boats up to 60 ft.
The Marina's East Yacht Harbor consists of long-term and transient tenant boat slips, accommodating boats up to 85 ft.
With over 200 parade contingents and exhibitors, and more than twenty community-run stages and venues, the San Francisco Pride Celebration and Parade is the largest gathering of the LGBT community and allies in the nation.
Celebrations begin on a Saturday in Civic Center Plaza in downtown San Francisco the last full weekend of June each year. The Parade, which takes place the Sunday morning of the event, kicks off from Beale Street along Market and ends at Market and 8th St. in the heart of downtown San Francisco.
The Mission of the San Francisco Lesbian Gay Bisexual Transgender Pride Celebration Committee is to educate the world, commemorate our heritage, celebrate our culture, and liberate our people.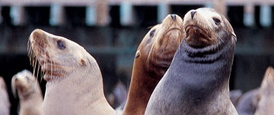 Why are they "Sea Lions" and not just "Seals"? Check out the Sea Lion Cam at K-Dock!
The first few sea lions hauled out on the West Yacht Harbor's K-Dock shortly after the 1989 earthquake.
By January of 1990 PIER 39 Marina had almost 800 animals frolicking around K-Dock in the water and on the boat slips.
Eventually, we relinquished K-Dock, relocated the boats and converted the boat slips to accommodate the Sea Lions in their chosen haul out site.
(415) 705-5436
FAX (415) 800-6688