Same Day Guest Docking Reservations may be made from 9am to 4:30pm: call (415) 705-5436, or you may hail us on VHF Channel 16. We are closed for lunch from 12-1PM. If you can't get through by phone, we are either at lunch or on the phone with another customer. IMPORTANT! Please do not just pull in to an "empty" slip, you must have advanced reservations.
LUNCH AT THE PIER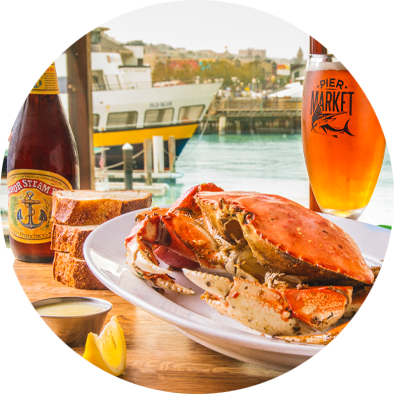 $25.00 Daystay : Check-In at 9:00AM | Check-out by 4:00PM Call on day of requested reservation for availability
Hungry? Why not tie up for a few hours and grab something to eat? Sit down and have a meal at the newly renovated Eagle Cafe or grab some sandwiches from Boudin's to go! From cookies & coffee at Mrs. Fields to a rocking lunch at the Hard Rock Cafe, PIER 39's many eateries can feed that hungry crew and keep your day out shipshape.
Pick up and Drop offs at PIER 39 are considered DAYSTAYS and cost $25. If you're looking for a place to pick up or drop off passengers, Pier 1 1/2 by the Ferry Building is free of charge.
N-NW PREVAILING Winds can be strong in the afternoon- we suggest you arrive before 2pm if possible, especially if you are docking on the west side, with a larger vessel.
OVERNIGHTS
Check-In 12:00PM | Next Day Check-Out 11:00AM
Vessels 36′ or less $45.00 overnight
Vessels 37-45′ $50.00 overnight
Vessels 46-60′ $60.00 overnight
PIER 39 Marina is a busy commercial harbor; make sure to watch out for commercial traffic leaving from both the East and West Harbors.
We accept overnight reservation requests 30 days in advance. Please complete the request form below. We will contact you within 24 hours for payment info and your slip assignment.
---