TUESDAY- SATURDAY | GRAB LUNCH AT THE PIER!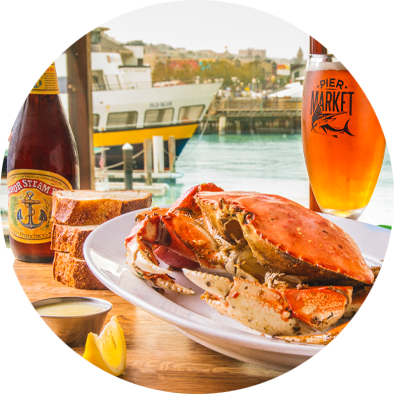 Sorry, no same day reservations available on Sundays and Mondays.
Hungry? Why not tie up for a couple of hours and grab something to eat? Sit down and have a meal at Pier Market or grab some sandwiches -to go! From cookies & coffee at Mrs. Fields to our classic Fog Harbor Fish House, PIER 39's restaurants are now open to feed your hungry crew members, keeping your day out shipshape.
PIER 39 Marina is a busy commercial harbor; make sure to watch out for commercial traffic leaving from both the East and West Harbors.
AUTUMN GUEST DOCKING SPECIALS!
TEAM-UP! THE DOUBLE DISCOUNT DOCKBOX & DAYSTAY DEAL
3 of PIER 39's most celebrated restaurants and PIER 39 Marina are boxing up a lunch deal to satisfy ANY hungry crew! Order Online and get 15% off your order using the promo code DOCKBOX
Dockbox Deal Available Tuesdays-Saturdays ONLY!
Step 1. Order lunch online from one our 3 award winning restaurants listed above- enter the required promo code DOCKBOX at checkout, and get a 15% discount!
Step 2. Contact the Marina at 415-705-5436 for your $10 (normally $25) daystay west harbor slip assignment- make sure you mention the dockbox deal! Space is limited and reservations are required, first come first served.
Step 3. Pull into your assigned slip, pick up your order, and enjoy!
opens in a new windowSee the PIER MARKET MENU CLICK HERE
opens in a new windowSee the FOG HARBOR MENU CLICK HERE
opens in a new windowSee the WIPEOUT MENU CLICK HERE
IMPORTANT CHANGES TO GUEST DOCKING
While we are looking forward to welcoming back our guest dockers at this time, please expect a bit different experience than you have had in the past, as we work with our tenants, liveaboards, and guests to comply with COVID19 health and safety requirements.
WEST SIDE GUEST DOCKING NOW OPEN: All guest dockers will be placed on the West side of the marina with a buffer slip between boats. This means our capacity will be limited.
MAKING A RESERVATION: Reservations by phone may be made Tuesday-Saturday from 8:30am to 3:00pm: please call (415) 705-5436. The office will be closed on Sundays and Mondays – same day guest docking will be not available on Sunday or Monday without a prior reservation. Please plan accordingly!
OVERNIGHT RESERVATION Check-In 12:00PM | Next Day Check-Out 11:00AM
PLEASE BE PREPARED TO MAKE PAYMENT OVER THE PHONE AT THE TIME OF YOUR RESERVATION REQUEST.
Vessels 36′ or less $45.00 overnight
Vessels 37-45′ $50.00 overnight
Vessels 46-60′ $60.00 overnight
We accept overnight reservation requests up to 30 days in advance. Please complete the request form below. We will contact you within 24 hours for payment info and your slip assignment.
N-NW PREVAILING Winds can be strong in the afternoon- we suggest you arrive before 2pm if possible, especially if you are docking on the west side, with a larger vessel.
Pick up and Drop offs at PIER 39 are considered DAYSTAYS and cost $25. If you're looking for a place to pick up or drop off passengers, Pier 1 1/2 by the Ferry Building is free of charge.
NEW OFFICE HOURS: TUESDAY-SATURDAY 8:30am-3:00pm.
SORRY! No guest slips available 3,4,5 NOVEMBER 2020. Please visit again soon!
---