SORRY! OUR MARINA IS UNDER CONSTRUCTION- WE ARE PILE DRIVING THIS YEAR!
GUEST DOCKING CLOSED FOR NOW.
---
Pick up and Drop offs at PIER 39 are considered DAYSTAYS and cost $25. If you're looking for a place to pick up or drop off passengers, Pier 1 1/2 by the Ferry Building is free of charge.
Would you like to be notified when we solidify our plans to open up for guest docking (including Fleet Week)? Enter your email below and we will notify you first!
GRAB LUNCH AT THE PIER!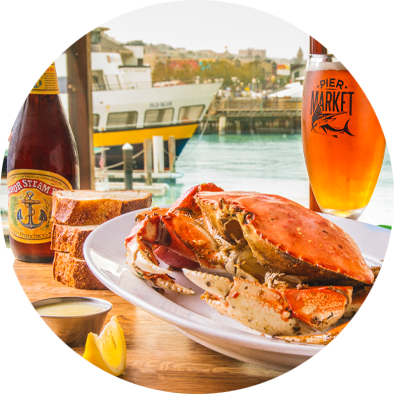 From cookies & coffee at Mrs. Fields to our classic Fog Harbor Fish House, PIER 39's restaurants are now open to feed your hungry crew members, keeping your day out shipshape.
PIER 39 Marina is a busy commercial harbor; make sure to watch out for commercial traffic leaving from both the East and West Harbors.
We accept overnight reservation requests up to 30 days in advance. Please complete the request form below. We will contact you for payment info and your slip assignment if we have space available.
IMPORTANT CHANGES TO GUEST DOCKING 2021
While we are looking forward to welcoming back our guest dockers, please expect a bit different experience than you have had in the past, as we work with our tenants, liveaboards, and guests to comply with COVID health and safety requirements.
MAKING A RESERVATION: Reservations by phone may be made Wednesday-Saturday from 8:30 am to 3:00 pm: please call (415) 705-5436. The office will be closed on Sundays and Mondays – same-day guest docking reservations are not available on Sunday-Tuesday. Please plan accordingly!
OVERNIGHT RESERVATION Check-In 12:00PM | Next Day Check-Out 11:00AM
PLEASE BE PREPARED TO MAKE PAYMENT OVER THE PHONE AT THE TIME OF YOUR RESERVATION REQUEST.
Vessels 36′ or less $45.00 overnight
Vessels 37-45′ $50.00 overnight
Vessels 46-60′ $60.00 overnight
N-NW PREVAILING Winds can be strong in the afternoon- we suggest you arrive before 2 pm if possible, especially if you are docking on the west side, with a larger vessel.
---